In this article, we will share the fundamental steps to develop an effective Content Marketing strategy on Social Networks !
STEP 1: Publish content regularly and at the right time
To have a successful Instagram profile, you need quality content, but not only … It is essential to post regularly .
Posting too occasionally carries the risk that followers will forget about your existence! Nothing worse than an interesting Instagram account, but one that hasn't posted content for months.
To know when to publish the photos, just one password: try ! The more you experiment, the more you will be able to identify the days and times when your posts generate the most engagement. We recommend that you use the Buffer tool to automatically process this type of statistics.
STEP 2: learn to differentiate
Currently, Instagram boasts 1 billion active accounts. How to differentiate yourself?
Your strength is undoubtedly your brand. You need to have an editorial plan that is relevant and personalized. First, ask yourself:
Who is my typical customer?
Which style to use?
Which hashtags to use?
What should my feed look like?
Choose to differentiate the photos to make your account truly original! It also needs to be visually consistent , such as using the same filter or template for each image. The goal: instantly recognize your brand just by looking at the photo.
STEP 3: Don't hesitate to use stories
Stories are ephemeral publications (photos, videos or texts), lasting up to 15 seconds and automatically disappearing after 24 hours.
The reach of a story is much more important than that of a traditional publication: it generally affects 30% of the subscribers of an account , a remarkable result!
Stories can take different forms, so they will allow you to:
Show the background of your business: organizing a behind-the-scenes event, packing packages, etc .;
Communicate directly with followers via video-selfie;
Share photos of fans wearing or using your products;
Interact with your audience through surveys to find out what they think, etc.
If you have a verified Instagram account , or if you have more than 10,000 subscribers, you can include a link to a product page in your Instagram Stories.
You can recognize a verified account by the blue check next to its name: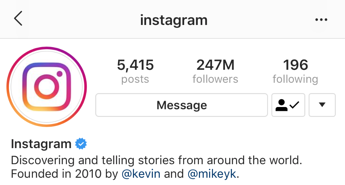 STEP 4: rely on influencers
In recent years, we often talk about influencers, a word used very rarely before the appearance of Instagram. But who are the influencers? People who have a large audience on their account (thousands or millions of people) and who have established a relationship of trust with their followers.
There are influencers for virtually every industry. Using their services can be an excellent solution to generate better engagement, promote the brand and products.
However, it is important to carefully select influencers . Make sure they fit your budget and that their community matches your target audience.
STEP 5: provide captions and hashtags
As we said, Instagram is a social network that favors images and videos, but we must not neglect the captions!
They are essential to tell what lies behind each photo. Use hashtags effectively : with carefully selected keywords that are relevant to your post and business.
Be careful not to abuse them: the social network algorithm will tend not to value publications that contain more than thirty hashtags.
STEP 6: take advantage of the IGTV
Launched in 2018, IGTV (Instagram TV) is the latest addition to Instagram. It allows you to post videos that are longer than Stories, up to 10 minutes long (and up to one hour for verified accounts).
For the moment, few accounts are taking advantage of this new feature, which is a huge advantage! You will have a better chance to communicate with your core target and to be referenced on the IGTV homepage.
We hope these steps have helped you to have a clearer picture and therefore better define your content marketing strategy. In a nutshell: to be successful on Instagram you need to be original and consistent with your brand identity!